Princeton High School
Class Of 1998
In Memory
Rick Benfeld VIEW PROFILE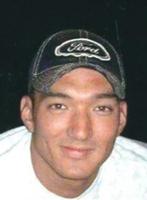 Rick Lee Benfield
PRINCETON Rick Lee Benfield, 38, of Princeton died Thursday, September 13, 2018. Born June 27, 1980 in Seoul, South Korea, he was the son of Song Sim Benfield of Princeton and the late Ronald Benfield.
His family moved from Korea in 1980 and then to Princeton in 1984. He was a 1998 graduate of Princeton High School. He served in the United States Air Force and achieved the rank of Technical Sergeant. Rick was a musician, artist, outdoorsman and loving father.
In addition to his mother he is survived by sons, Aiden and Luke Benfield of Byron, GA; brothers, Robby Benfield and Kenny Benfield both of Princeton; half-sister, Tressa-Lynn Lambert of Arkansas and nephew, Tyler Benfield of Hinton.
Funeral service will be at 11:00 a.m. Monday, September 17, 2018 at First Baptist Church in Princeton with Dr. David Dockery officiating. Interment will follow at Resthaven Memorial Park in Princeton where military honors will be conducted by Mercer County Veterans Honor Guard.
In lieu of flowers memorial contributions may be made to Celebrate Recovery or the charity of your choice.
Friends may visit with the family from 4-6 p.m. Sunday, September 16 at Bailey-Kirk Funeral Home.
Arrangements by Bailey-Kirk Funeral Home in Princeton.
To view a video tribute or send the family online condolences please visit www.bailey-kirk.com.
https://obituaries.bdtonline.com/obituary/rick-benfield-1068184966
Click here to see rick's last Profile entry.