Princeton High School
Class Of 1998
In Memory
Dennis Rowe VIEW PROFILE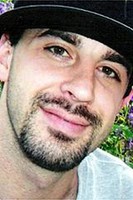 Dennis Luther Rowe, Jr., 30, of Union Drive, Princeton, formerly of the New Hope Road, lost his life due to a motorcycle accident in Wyoming County on Sunday, September 19, 2010.

Born November 21, 1979 in Bluefield, he was the son of Abbie May Jones Rowe of Princeton and Dennis L. Rowe of Bluefield, Va.

Dennis was a graduate of Princeton High School, Class of 1998. While in Jr. High School, Dennis played basketball and in high school was a member of the Soccer team for PSHS. Dennis was an avid skateboarder, having participated in numerous competitions around the state and assisted in the design and development of the Princeton Skateboard Park. He loved to play music with his friends, and the real enjoyment, was riding his motorcycles and building low riders for himself and others.

Dennis was a safety mine inspector for shelters for the A. L. Lee Corporation, Mabscott and served as a police officer for the Town of Kimball.

He was preceded in death by his paternal grandparents, Maggie and Luther Rowe.

Those left to cherish his memory include his mother and stepfather, Abbie Rowe and Leroy Blevins of Princeton; father, Dennis Luther Rowe of Bluefield, Va.; sister, Shelby Denise Rowe and companion Bud Teeth; and a very special niece, Veda Rain Rowe, all of Fairmont; half brother, Darrie Rowe and wife Millie and their children, Xavier Rowe, Hannah Rowe and Shelby Dylan Rowe, all of Alburnett, Iowa; special companion, Dena Bolden of Princeton; and her sister, Melissa Bolden; maternal grandparents, Raymond and Emma Jones of Princeton; aunts and uncles, Phillip "Kenny" and Joyce Robinson of Gilbert, Rita Rowe of Morgantown, Shelby and Theresa Jones of Columbus, Ohio, Bobby and Patty Jones, Jeff and Brenda Venable, both all of Princeton, George Jones and fiancée Patty of Spencer, Stephanie Jones of Princeton; cousins, Richard and Jamie Rowe, Phillip Robinson Jr., Eric and Laura Jones, Jamie and Kimberly Jones, Bobby Jones Jr., Jessica Mitchem, Tonya Thomas.

On Thursday, September 23, 2010 at 1:00 p.m., we will celebrate the life of Dennis Rowe from the Burns Wornal Chapel of the Memorial Funeral Directory on the Athens Road in Princeton with Pastors Terry Lambert and James Ford officiating. Burial will follow in the Roselawn Memorial Gardens in Princeton.

A time of sharing and gathering will be held Wednesday evening from 5 until 8 p.m. at the funeral home. Family and friends may share online messages of love and concern via www.memorialfd.com

The honor of carrying Dennis has been given to Bobby Jones, George Jones, Darrie Rowe, Tyson Urtso, Eric Bishop, Wes Hinkle, Joshua Sisk and Drew Nowlin. Serving as honorary pallbearers will be Shelby Jones, Kenny Roberts, Justin Hurt, Stephen Fox, P.J. Lucas, Glen McCoy and J. J. McMillian.

The Rowe family is being served by the Memorial Funeral Directory & Cremation Center on the Athens Road in Princeton.
Click here to see Dennis' last Profile entry.