Princeton High School
Class Of 1998
In Memory
Everette Bailey **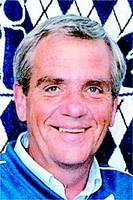 Everette K. Bailey Jr., 65, of Magnolia Avenue, Princeton, died suddenly Thursday evening, January 17, 2013, at Princeton Community Hospital.

Everette was born July 10, 1947, in Princeton, was the son of the late Everette K. Bailey Sr. and Ruth Mastin Bailey. Everette was a graduate of Princeton High School, class of 1965. He attended Concord College in Athens.

Everette retired from the West Virginia Department of Highways, as The Human Resources Manager, after 33 years of service.

Everette was committed to his community, church, civic groups, 4-H organizations and organized sports programs for children of all ages.

He had been a 4-H leader in Mercer County for more than 40 years, he was a West Virginia 4-H All-Star, had served as a camp counselor for the County program as well as the state program. For many years, Everette volunteered at the West Virginia State Fair, supporting all phases of 4-H programs.

Everette was an outstanding member of the Princeton Jaycees where he had served as President, and later served as regional Vice President for the State of West Virginia. Everette received numerous awards on both the local and state levels. He was honored by the West Virginia Jaycees as being named a JCI Senator, the highest award a Jaycee can receive.

He was also very active in the Mercer County Jr. Miss Program and the West Virginia Jr. Miss Program. Everette had been honored to serve many times as a judge on the state level throughout the Eastern United States. Everette was also a member Princeton Elks Lodge.

He was active with the The Princeton City Football League, Mercer County Soccer League, and Greater Princeton Little League program, helping to establish its current location at Gardner. Everette loved people, especially young people. This was reflected in his commitment to the Soccer Program at Princeton Senior High School where he established the program and coached for 15 years. He was honored during his tenure to serve as coach of the Southern All-Star team for West Virginia. He will long be remembered as the voice of the Princeton Tigers basketball teams for girls and boys. Everette, along with his wife, was awarded The Distinguished Service Award by The West Virginia Athletic Directors Association. Everette was a lifetime member of the Princeton Presbyterian Church, where he had served as an Elder and a member of the church choir for over 40 years. Recently, he had been attending the First Presbyterian Church in Bluefield. Everette was actively involved in the life of the City of Princeton. He had served as chairman for the Parks and Recreation Board for the City, and was currently serving as a member of the Princeton Zoning Board. He was a familiar face for many graduating students from Princeton Senior High School working directly with his wife Carol on Project Graduation.

For those who have had the honor of knowing Everette Bailey, he will be sadly missed by hundreds of 4-H members, students and the good citizens of Princeton.

In addition to his parents, he was preceded in death by a grandson, Max Copenhaver Bailey.

He will be lovingly remembered by his wife and best friend of 43 years, Carol Butler Bailey, two caring children, Jeffery W. Bailey and wife Barbara of Morgantown, and Heather Bailey and her fiancé Michael Treolo of Athens. Three grandsons who held the key to his heart, Clay Bailey, Zeke Bailey and Miles Fisher. One brother, Fred Bailey and wife Patricia of Delaware.

A service to celebrate the wonderful life of Everette Bailey will be held at 1:00 p.m., Monday, January 21, 2013, from the Burns Wornal Chapel of the Memorial Funeral Directory on the Athens Road in Princeton with Lay Minister Kellan Sarles officiating. Burial will follow in the Roselawn Memorial Gardens in Princeton.

Friends may visit with the family on Sunday from 2:00 p.m. until 6:00 p.m. at the funeral home. Online condolences may be offered to the family via www.memorialfd.com.

Serving as pallbearers will be Clay Bailey, Zeke Bailey, Paul Butler, Mike Pauley, Carl Pruett, Jordan Pruett, Brandon Roland, Matt Smith, Schon StClair.

Serving as honorary pallbearers: All Mercer County 4-Hers and 4-H Alumni and All Princeton Senior High School Boys Soccer Team Alumni.

In lieu of flowers, Memorial gifts may be offered to the Mercer County 4-H Leaders Association Inc., 1500 W. Main St., Princeton, WV 24740.

Gifts will used for Mercer County 4-H Camp and State 4-H camp Scholarships.

The honor of serving the Bailey family has been given to the Memorial Funeral Directory and Cremation Center on the Athens Road in Princeton.